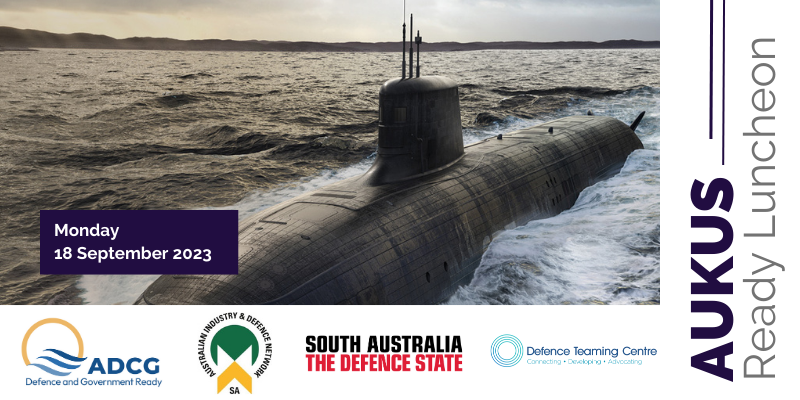 Explore Australia's defence industry's and education sector's roles in the AUKUS Program at ADCG's Exclusive AUKUS Ready Luncheon.
This extraordinary event will highlight solutions and provide practical actions for Australia's defence industry and educational sector within the AUKUS landscape. The luncheon will offer profound insights, expert knowledge, and networking opportunities to prepare you for the challenges and opportunities presented by the AUKUS Pillar One nuclear-powered submarine program.

Solutions to Empower Your Growth: Overcome the challenges facing Australia's defence industry and educational sector in the context of the AUKUS program. Discover innovative solutions and practical steps that can elevate your company or organisation and drive growth.

Learn from AUKUS Experts: Hear from trilateral AUKUS experts as they discuss Education, Training, and Workforce Development in Support of AUKUS Pillar One. Their insights will equip you with valuable knowledge and strategies.

Delve into the Nuclear Ecosystem and Lifecycle: Explore the intricacies of the US Nuclear ecosystem and lifecycle, including the US supply chain.  The keynote speaker will provide unparalleled insights into this crucial aspect of the defence industry and education and training sectors.

Unique Investment Opportunities: Connect with a local capital provider and a US private equity investment company with unparalleled insight into the US supply chain, offering exclusive opportunities for Australian SMEs to become AUKUS Ready.

The line-up of guest speakers is currently being finalised, among the confirmed speakers are:
Professor Robert Thomas, VADM USN RTD.  Keynote speaker and pre-eminent expert in the nuclear-powered submarine ecosystem and lifecycle and the education, training and workforce development considerations.
Richard Price, Defence SA Chief Executive
Toff Idruss, Former Royal Australian Navy Submarine Officer
Giles Evans, Former Royal Navy Submarine Officer
Do not miss this exclusive luncheon where the future of Australia's defence industry in the AUKUS program will be explored.  Seize this opportunity to expand your network, gain invaluable insights, and position yourself for success in the AUKUS era
.
Limited seats are available, so secure your spot now by booking your tickets. Individual tickets are $190 or save $200 by booking a table of 10 today.  Event sponsorship options will be available.

ADCG looks forward to welcoming you to the Exclusive AUKUS Ready Luncheon at the Adelaide Playford Hotel with support from Defence South Australia, Australian Industry and Defence Network South Australia, and Defence Teaming Centre.

Ticket sales close Monday 11 September 12pm unless sold out prior.
When: Monday 18 September 2023
Time: 12pm – 3pm ACST
Where: The Playford Adelaide, 120 North Terrace, Adelaide 5000
Cost (includes entrée, main and a drinks package)
Single Tickets: $190.00
Table of 10: $1,700
PH: 1300 11 2324
PO BOX 145
JERRABOMBERRA
NSW 2619